Jazz dancers wear a variety of different outfits. If you are taking a jazz dance class, the first thing that you should do is check with the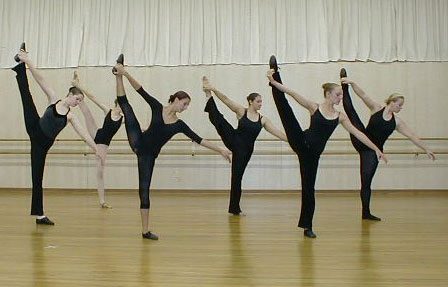 instructor to see if there is a dress code. Some instructors require their students to wear certain items while dancing in their class. If there is no dress code, then there are many different options out there. To get some ideas of what others wear, try dance shops or check out dance shops online.
Most jazz dancers wear tights and a leotard. The tightness of the outfit makes it easier to perform certain moves. If you are not comfortable with wearing something so tight, you can look into wearing jazz pants. Jazz pants are similar to sweat pants, except they are lighter and a little tighter. These pants come in varies lengths and colors.
Other dancers like to wear a simple camisole over a leotard along with a pair of soft shorts. If you are allowed to wear what ever you want, then make sure you are comfortable. You want to be able to move freely in what ever you are wearing.
One thing that may be required are jazz shoes. Most teachers prefer you to wear them. However, there are many different styles of these in the market, so you can get the ones that fit best for you. Jazz shoes are like ballet slippers except jazz shoes have a small heel. They are normally black or tan in color. They can be found in full and split-soles. There are slip on jazz shoes and ones with or without laces. Some dancers like to wear jazz sneakers. These have a split-sole and a hardened toe area for brief rises onto pointe. Jazz boots are another option. These are a help for those dancers that have weak arches. They provide ankle support.
Whatever outfit you choose to wear, make sure they fit and are comfortable to wear. If you are comfortable, then it will make learning how to dance easier.